Lt Col Dr. Tapan Kumar Guha

FOUNDER, DIRECTOR
Lt Col Tapan Kumar Guha was trained and educated in premier institutions in India like: Indian Military Academy (Dehradun), Defense Institute of Advanced Technology (Pune), M. Tech in Indian Institute of Technology (Chennai) and PhD from Nirma University of Sciences and Technology, Ahmadabad. Tapan kumar displayed a very high degree of professionalism in administration, human resource management and leadership during service in the Indian Army, Corporate and in Academic Institutions. He has the ability to mobilize human resources through motivation in a multi-disciplinary and multi-cultural team environment. Dr. Guha has extensively traveled in the Indian subcontinent while in the military and recently in some parts of Southern USA. His motto is to promote team work and harmony, collaborating with team members, conflict resolution and display of cultural, gender, religion and age adaptability.
Mr. Somesh Bhattacharya

ADVISOR
Mr. Somesh Bhattacharya did his graduation from Calcutta University in Economics (Honours). Thereafter he joined Indian Administrative Service and served in various positions in administration namely: District Magistrate & Collector, C.E.O & M.D in State Public Sector Undertakings and as a Secretary in State Secretariat.  Mr. Bhattacharya has widely travelled in North America and South East Asian countries on different work assignments sponsored by the Government of India. After his retirement from Government Service, Mr. Bhattacharya is presently engaged as Principal, School of Languages, R.K.M. Institute of Culture (Golpark, Kolkata), which is engaged in teaching foreign languages having student strength around 8000.
Debi Prasad Acharyya

ADVISOR
Mr. Debi Prasad Acharyya studied Master of Commerce and LLB from University of Calcutta and has proven and wide experience in Engg & Construction industry in the field of Project Finance, Accounts, Administration, Procurement and Materials Management, Industrial Relations, Statutory Compliances, CSR Activities and Liaison. He had worked with Larsen & Toubro for 34 years in different Capacities in Projects and post retirement worked as Full time Advisor with L&T for further 2 more years. Mr. Acharyya had worked in different location in the country and played a pivotal role in the successful completion of several projects of repute and of National Importance.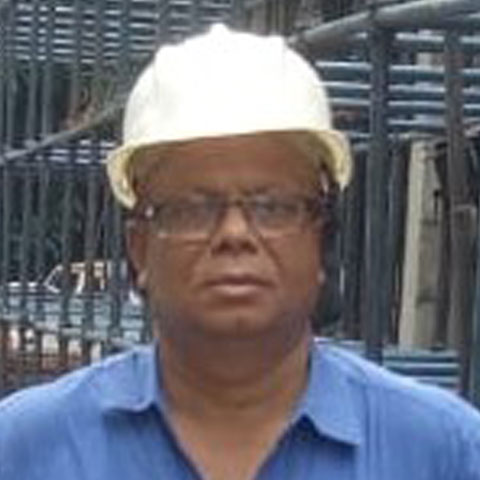 Kamal Goswami

TEAM MEMBER
Kamal Goswami has more than 35 years of experience in the construction industry and has successfully executed various prestigious projects all over India. Kamal has expertise in conducting design reviews, supervising personnel, estimating labour, establishing schedules, creating contingency plans, and maintaining budgets. He has proficiency in providing support during installation and start-up of projects, ensuring multidiscipline engineering and design efforts in accordance with project scope, schedule, and costs. Kamal has proven track record in preparing and presenting project status, progress reports and managing projects simultaneously under demanding deadlines.
Nilanjan Gupta

TEAM MEMBER
Nilanjan Gupta is a 1st Class Masters Degree holder in Economics from Jadavpur University, Kolkata and has over 13 years of rich experiences of working in corporate, academics and holds the prestigious post of Chairperson PG Programme Committee in a leading business institute in Kolkata for the last 5 years. Currently Nilanjan is working as a Vice Dean with an education service provider company, where he looks after International Exchange and Cooperation for opening up new business projects, which makes him travel overseas frequently. A sport enthusiastic Nilanjan, was a champion table tennis player at university level and currently engaged in coaching young enthusiasts. In academics, he has a passion to impart soft skills and motivational training to PG management students.
Ratika Mehrotra Banerjee

TEAM MEMBER
Ratika Mehrotra Banerjee is a qualified lawyer who did her Bachelor of Laws (L.L.B) and Bachelor of Commerce – both from the University of Delhi. With 8 years of rigorous experience at the bar in various Courts in New Delhi, she has a rich and varied experience of working with different kinds of people. Some of Ratika's accolades are: being on the panel of International Bridges to Justice – a Geneva based NGO, a scholarship holder from India Friends Association-a Non Government Organization based in California, United States and was on the panel of Delhi Legal Aid Service Authority where she was nominated as a Jail Visiting Advocate. Ratika was also associated with Additional Solicitor General of India and became a certified lawyer for excellent work in National Human Rights Commission for contribution in the Compoundable Cases Project. Ratika intends to use her knowldege and experiences as a policy analysts and ensure legal and regulatory compliance regarding financial and human resources functions and coordinate all legal business issues in an organization.
Mritunjoy Banerjee

TEAM MEMBER
Captain Mritunjoy Banerjee did his Post Graduate Certification in Business Administration from Indian Institute of Management (Kolkata, India) and had a distinguished career in the Indian Army. Being an Ordnance officer, Mritunjoy was responsible for preparation of operational plans and its implementation, be accountable for safe custody of high value assets, management of transport fleet, vendor management, training and development of personnel and ensure safety of warehouses spread over in a large area. He did tenure in Botswana as Manager Operations & Logistics with Clover Chemicals (Pty) Ltd., Manager–Administration & Security in Eassel Mining Industries Limited-Aditya Birla Group and Manager–Operations & Purchase in adb & Company. His most recent assignment was in pwc as Senior Manager–Administration. Mritunjoy aspires to take up management assignment in an organization of repute and contribute in the area of Project Management, General Administration and in Employee, Health and Safety (EHS) management.
Tapabi Thakur

TEAM MEMBER
Ms. Tapabi Thakur did her Graduation and Post Graduation in Sociology from University of Calcutta where she had been an University Topper throughout. She also holds PG Diploma in MR from University of Georgia (USA), PG Diploma in Advertising and Communication from MICA (Ahmadabad) and Executive Programme in Business Management from Indian Institute of Management (IIM Calcutta).
She has a versatile professional experience in Market Research & Insights. She has lead the Qualitative Research division of MRB, Dhaka Bangladesh. Prior to that role, she was leading Qualitative division of Nielsen Research in Senior Management role. She is currently an Independent Consultant on Qualitative Research (with National and International Clients).
As a visiting faculty, Tapabi has taught in premier management institute like: IIM Calcutta and Nielsen Academy. Tapabi believes that the Sociology of Sport and Exercise programme is an increasingly important discipline in understanding sport, exercise and wider fields such as health. She thinks that Sports are Too Important to Be Left to the Athletes. In this task, Tapabi plans to engage not only with sportspeople and organizations, but governments, corporations, fans and the citizenry at large.
Mihir Girish Hemani

TEAM MEMBER
Mihir Girish Hemani is a Chartered Accountant and did Post Graduate Diploma in Management (equivalent to MBA) with specialization in Finance and International Business. He has experiences of working with high profile clients in accounting and finance field and also the founder of innovative businesses namely; "Nilgiri Food Products–manufacturing quality snack at Kolkata", "NIS Group–Running Hotel at Gangtok", "Sketching Skills–Imparting Skills to unskilled" and "Make Holiday–A complete travel solution". With such rich experiences in the entire gamut of accounting and finance operations, Mihir is fully capable to devise financial systems for a new project, check accounting procedures, ensure legal compliance, provide advice on complying with tax legislation and steer the project in the right strategic direction.
Sphoorti Biradar

TEAM MEMBER
Sphoorti Biradar an engineering graduate in computer science did her M.S. in Sport Management from University of Florida, USA. A trainee at IMG Academy in Florida for 2 years she won Silver medal for Karnataka State in 50th National School Games held in Pune (India). In a short span of her career she has many accolades to her credit. To illustrate a few; Sphoorti developed "Kids Day" event logistics outline for ATP World Tour 2015 as an Intern in IMG-Reliance (Mumbai, India), worked as Marketing & Promotions Intern at UAA (FL, USA) and led a team of research interns and organized sessions with CarrSports Consulting, LLC. (FL, USA). As Project Assistant at IMG Academy (FL, USA) she coordinated implementation of Smart ID project. After return to India in Dec 2015, Sphoorti worked as Direct Marketing Manager in Decathlon Sports (Bangalore, India). In Nov 2017 she moved to 'Padukone-Dravid Centre for Sports Excellence' as Business Development Manager and was responsible to plan, promote, and establish six sporting games, coordinate and liaise with high performance organizations across India and proactively promote coaching programs of various sports and sport science services designed with precision to current and future athletes and niche clientele.
Major(Retd) Mohammed Ataullah Khan

TEAM MEMBER
Major(Retd) Mohammed Ataullah Khan did his M.A in Politics (International Relations) from Jawaharlal Nehru University, New Delhi and served in Indian Army for six years till Sep 2008, where he was responsible for general administration, security, preparation of training program and took part in disaster management in aid-to-civil authorities. Ataullah had earned many accolades during his sporting career and some of them are: Project Officer-Venue Operations during 19th Commonwealth Games 2010 in New Delhi, CEO Vasco Sports Club (Goa) Pvt Ltd, Venue Operation Manager during 12th Arab Games (Nov-Dec 2011) in Qatar. His latest participation in international meet was Review & Implementation of Safety & Security Measures during Fifa U 17 World Cup India 2017 at Salt Lake Stadium in Kolkata. Ataullah aspires to work in Sports Industry and contribute his passion, hard work, skills and experience to the development of the organization while contributing to the development of teams and individuals towards Sports.
Ms Anita Rege

TEAM MEMBER
Ms Anita Rege did her graduation with English Honours and secured her first class Master's degree in American, Australian and British Literature from IGNOU University, and St. Xavier's College Calcutta. She also holds first-class PG Diploma in Public Relations, Journalism and Communications Studies from the Xavier Institute of Communications, Mumbai, India. She is an accomplished Communications' professional with close to 13 years of work experience with cross-sectoral proficiency and multiple domain knowledge.
Anita has expertise in PR, Content development & dissemination, Client servicing & retention and has a success story of moderating events and hosting awards ceremonies. As a PR Executive, Anita was entrusted charge of multiple clients across different verticals like Real Estate, Education, Healthcare, and Food Ingredients Solutions besides handling Personality PR for several high profiles surgeons and specialist doctors. She is presently an Associate Editor with Lokus Design at Pune, Maharashtra, India.
Anita has exceptional strong writing, copy editing, proofreading, communications, networking, persuasive and marketing skills. People management skill is another strength she brings to the table. As a person, she is vivacious, confident, disciplined, proactive and meticulous. Anita will be an asset to the project to provide her sound comprehensive communications solutions, empowering to accelerate the business, attain desired growth and garner enhanced visibility among the target publics.